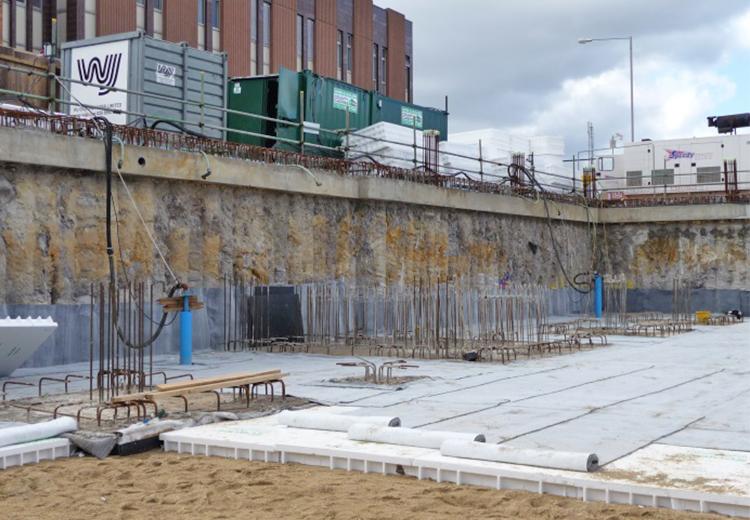 Being approached by the Police is something no one particularly relishes, but when Dorset Police came knocking on our door, WJ were only too happy to help with their enquiries!

The old Poole Police station was a dark and unwelcoming place for the public and also suffered from out-of-date facilities and a lack of space and resources for the Force. So, a new headquarters was needed and that meant starting with a big hole. Specifically, a basement of plan size 72m x 78m and a dig depth of 4.5m – plenty of space for the new Dorset Fire & Police HQ.
Supporting the basement sides by scant piles, WJ got to work on dewatering the site. The ground conditions comprised layers of sand and clay, overlaying sandstone with standing groundwater level within 1m of ground level. Our first task, therefore, was to carry out pumping tests. The resulting data which we collected enabled us to develop a scheme comprising fifteen 12m deep wells in order to provide pressure relief in the sandstone. In addition, we installed a perimeter wellpoint system which was used to drain the upper sand layer.
With the resulting discharge flows peaking at 75l per second, we knew we were making serious progress. However, at this impressive rate, it was essential that we kept a close eye on things and to obviously honour the trust placed in WJ by the rest of the construction partners to ensure a safe and viable site. We, therefore, installed our automated data logger monitoring system. This solution provides a call-out alarm and near real time access to flow and drawdown data via WJ's bespoke monitoring website. It was our version of a '999' service for the Police!
With firm foundations on which to build, the new headquarters has provided Dorset Police, Fire and Rescue Services with a modern and efficient base to operate from, which will further strengthen their close partnership working with other local organisations. This can only help them to work closer together to improve the safety of their communities.
Click HERE to read the official Poole Police press release.
LOCATION: Poole, Dorset
MAIN CONTRACTOR: Morgan Ashurst PLC